Storage Batteries For Solar PV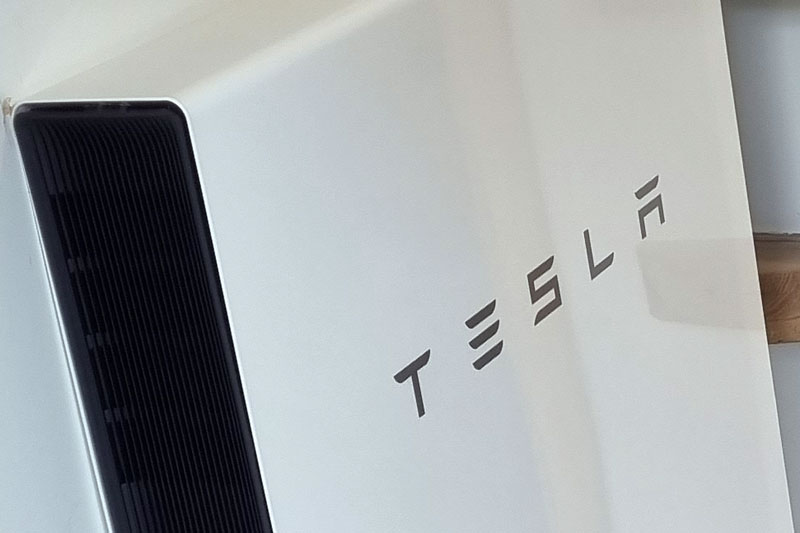 Battery storage technology is revolutionising the way we think about and use solar energy.
Whether you're looking to reduce your carbon footprint, save money on rising energy bills, or ensure you have a reliable source of energy during power outages, we have the expertise and experience to help. You don't need to have a battery for solar panels to work, but by storing the excess energy generated by your solar panels, you can:
Solar Battery Storage from Leading Brands
Our mission is to provide clean, reliable, and sustainable energy solutions to homes and businesses across Devon and Somerset. We're a leading supplier and installer of domestic and commercial battery storage in the South West and partner with some of the industry's leading brands to offer a range of battery storage options. We recommend that all batteries apart from Tesla Powerwall 2 are installed indoors. Our friendly team is available to advise the best solution to fit your energy storage needs.

The Tesla Powerwall 2 is a flexible and cost-effective energy storage solution, capable of expanding its capacity by connecting up to 6 units with a single Tesla Gateway. The AC coupling requires approval from the local Distribution Network Operator. This service is included in our quote. It can be programmed to charge during low tariff rates and utilise all excess PV generation, providing 13.5 kWh of usable power that can be accessed at any time (day or night). With an online app for setting functions and monitoring performance, this self-regulating battery comes with a 10-year warranty and is suitable for both indoor and outdoor installation.
GivEnergy offers reliable solar storage with advanced lithium-ion tech, real-time monitoring, and easy retrofitting or installation with new solar panels, making it ideal for homes and businesses. IP65 rated for protection against water and dust, it also comes with a 10-year warranty. The battery features high-capacity, high-density LiFePO4 cells and is fully recyclable at the end of its life.

The SolarEdge 10kW Energy Bank offers a residential solar solution with an inverter and battery for optimised excess energy generation. It converts DC to AC and stores energy for use during peak demand or low panel generation. The system provides 10kWh usable power and can be monitored via the SolarEdge Monitoring Portal. It comes with a 10-year warranty. Requires a compatible SolarEdge Inverter.

The RESU Prime battery storage system has a compact, modular design making it ideal for small homes and flats, plus it can be easily installed next to a solar panel inverter. It has a real-time monitoring app and uses advanced lithium-ion technology, ensuring high efficiency and a long lifespan.

Dyness energy storage systems store excess solar energy using air, making it an eco-friendly and cost-effective solution. This system reduces the risk of water damage and degradation and is easily scalable for homes and businesses. It can be retrofitted to existing panels or installed with new solar panels.
Expertly Installed Solar Storage
Our experienced engineers are experts in solar energy and trained to the highest levels to be able to perform solar PV and battery storage installations safely and efficiently, always treating your home or commercial property with care and respect.
They are knowledgeable about the latest industry standards and regulations and are committed to ensuring that every solar installation they complete meets the highest standards for quality and safety.
SOL Electrical is a NICEIC registered Contractor and Installer and MCS Certified. As well as holding the latest LCL Award in Electrical Energy Storage Systems. So, you can have peace of mind that we meet all the relevant technical and safety standards and uphold industry codes of best practice.
Let us help you to harness the power of the sun and achieve energy independence.